Jean-Christophe Bieselaar, Ph. D. (théologie)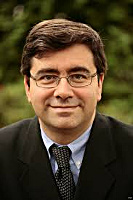 Adjunct of the Faculty of Theology and Religious Studies of Laval University
Member of ETEQ's academic committee, 2017 -
Director Graduate Studies, 2016-
Academic Background
Doctor of Philosophy in Theology (Ph.D.), 2017, (King's College - University of London, Royaume-Uni).
Thesis: Developping a Christian Theology for Ministering to Intercultural Couples.
Graduate Certificate of Academic Practice, 2012 (King's College University of London)
Master of Theology (Th.M.) - Apologetics, 2005 (Westminster Theological Seminary) (USA)
Master of Divinity - Counselling, 2000  (Alliance Theological Seminary) (USA)
B.A. International Affairs, 1995 (The American University of Paris)
Other Commitments
Pastor - Christian & Missionary Alliance (C&MAQ), 2016-
Couple and Premarital Counselling (Quebec trainer for Prepare-Enrich)
Publications et contributions
« Les couples interculturels » et « Les familles interculturelles » in Familles et conjugalités : regards chrétiens pluridisciplinaires
« L'aumônier protestant » in Gestion Hospitalière, 2015
« Jalons pour un accompagnement pastoral des couples interculturels » in L'Église, promesses et passerelles vers l'interculturalité ?
« Le couple interculturel face à la définition de son identité » in Paroles Protestantes - Ensemble, 2012
« Mariages interculturels » in Vivre la diversité : l'Église dans une société multiculturelle
Cours enseigné(s) à l'ETEQ