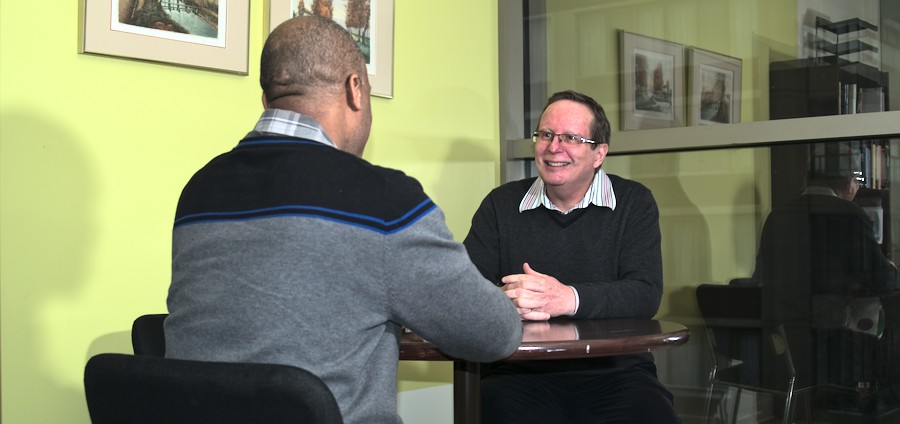 JOIN US!  Come live a unique experience: an English theological education… in a French school!  You'll get basic services, and more, in English, all the while enjoying the primarily French environment.
ETEQ is a healthy, growing, French-speaking school with more than 40 years of history.  Today, we serve about 70 students a semester - en français. At both the undergraduate and graduate levels, we prepare believers to think, love and serve in a way that meets God's high standards for effective missions in today's world, starting right here in Montreal.  About half our students are responding to a call for Church ministry while the other half are here for crucial, advanced discipleship and learning for service that will take place in the context of some other professional career.
All our students receive their diplomas or degrees from Université Laval, our provincial university partner.    
JOIN US because God has placed in our hearts the desire to enrich our school by offering English courses under some of the best teachers of the English-speaking, Evangelical Montreal community.  These courses will create a rich learning community of anglophones (new students), francophones (existing students) as well as allophones impassioned to study Bible, theology, missions and Church ministries. English-speaking students will be able, if they so wish, to integrate one or more French courses into their Minor in Pastoral Studies; likewise, our French-speaking students who wish to improve their English or simply LOVE hanging around with English students and learn from an English-speaking teacher, will be able to include as many English courses as they wish into their programme. As for bilingual students: it's really their call! 
While only one of our many programs can be completed all-in-English, this Minor in Pastoral Studies (30 credits) is our basic programme.  It is followed by all our students in their first year, regardless of language preference. It is NOT just for future pastors, but it is an introduction to Evangelical Studies. Check out the programme details.
September 2018 is the launch of a new adventure. If you love learning in a multicultural, bi-linguistic environment, if you are OK with not hearing only English around you, if you would dare walk with us on a new path and help us open up a new future for the Québec Church, in English and en français, together, and if you want to see Christ's Church reach out to the world from a position of unity and creativity, JOIN US.
Year one, we will offer 5 courses ALL in English. Year two, we wish to offer 8 different courses ALL in English. Year three, we'll have reached our cruising speed of 12-14 ALL in English courses a year. Add to that our other 60 undergraduate courses in French.
JOIN US, for a Minor in Pastoral Studies and if afterwards you want more, you could continue in French, or again, transfer into another English-speaking institution somewhere in the world with a whole year completed at very low cost towards your Bachelor of Theology.
If any of this connects with you, connect with us by filling the "I want to know more!" form and simply say: I want to JOIN! (OUI! OUI! OUI!)
Dr. Jean (John) Martin,
President