Actualités
Info étudiants
Lettres de nouvelles
News
New Season - Same Mission by Jean (John) Martin, Academic Dean
All around the world, the Church is learning (and often re-learning) to be the Church. One of its growing edges is learning again how to train Kingdom leaders who are grounded in Bible and theology all the while being unapologetically on-the-move in mission and service. Quebec is a great place for some of that learning to happen, a place where together Church and school are listening, questioning, dreaming, praying and launching forth to ensure that the Gospel be "loud and clear" as it must be, first in Quebec, but also beyond.  With its 100 Bible and Theology students (30% Master's level), 25 professors and lecturers (almost all pastoring in the Montreal area) and an unequalled cohort of servant-minded personnel, ETEQ is smack in the middle of all this learning.     
Au revoir Friends by Kristen Corrigan, President
I believe it was Chaucer in 1374 who first quoted "There is an end to everything, to good things as well." We usually know that saying as, "All good things must come to an end."
After 11 years of loving on Quebec, the province of my birth, I now feel called back to BC, the province where my children were born and my career was launched.
It is a time of such mixed emotions!
For my final letter as the leader of ETEQ, formerly of ETEM, I would like to sign off with expressions of gratitude, what I am sad to leave, what I hope for and my requests for your prayers.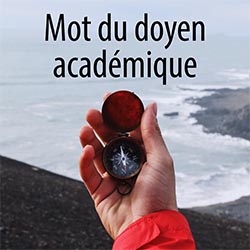 For Our English-Speaking Students
Greetings to all our English-speaking students who since September 2018 have courageously launched their Biblical and Theological studies in our midst.  Your presence is an enrichment to the ETEQ community. We love to hear from you in class and to interact with you in the hallways or to pray with you in the prayer salon. Thanks for daring to grow in your own French language skills and for helping so many Francophone students gain confidence in their English language skills and thereby open themselves so much more to the amazing world of Evangelical studies.  As you meander through the info below, notice especially our 2019 GRADUATION on April 27, 13h30.  We would love to have you here with us to represent our new English student body and, why not, even your congregation.  Our next English courses will be in September.  One class will be taught by Pastor David Manafo from Westside Gathering: Stepping into Church service and leadership. The ETEQ team is always ready to serve you in English… even if we are still learning to do that well!  Thanks for building with us and the Lord Jesus. 
Grace and Peace by Kristen Corrigan, M.A.
As 2019 begins we are encouraged to see that our enrolment is strong once again, having met our goal for yet another semester. And, after the first six months of our fiscal year, we have broken even financially! Praise God through whom all blessings flow. This year promises to be filled with hope, vision and change.
A Word from our Board Chair, Jean Raymond Théorêt, Ph.D.
The Board of Directors of ETEQ is pleased to announce that Dr. John (Jean) Martin, PhD, has been appointed Interim President effective July 1st, 2019.