Brent Dunbar, D. Min.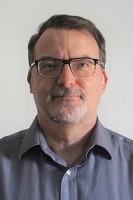 Adjunct of the Faculty of Theology and Religious Studies of Laval University.

Academic Background
Doctor of Ministry (Biblical Theology), The Southern Baptist Theological Seminary, USA, 2017.
Thesis: Preaching the Book of Exodus: Developing Servants, Missionaries, and Worshippers.

Master of Divinity (Pastoral Leadership), Taylor Seminary, Canada, 2005.
Other Commitment
Lead Pastor at Snowdon Baptist Church, Montreal (QC), October 2016 - Present.
Publications et contributions
Contributor to Strength for Today and Bright Hope for Tomorrow, ed. Timothy S. Willson. Edmonton: Taylor College and Seminary, 2018. Contributed the following single-day devotions: "Agendas," (April 22); "The Christ-Centered Old Testament" (December 20).

"In Remembrance: Eugene Peterson." 7 November 2018. The Gospel Coalition Website (Canadian Edition). https://ca.thegospelcoalition.org/article/in-remembrance-eugene-peterson/.
"Saul and David Remixed: The Samuel Story in the Book of Acts." Presentation at the Ambrose University College Research Conference. Calgary, Alberta, March 2013.
Cours enseigné(s) à l'ETEQ